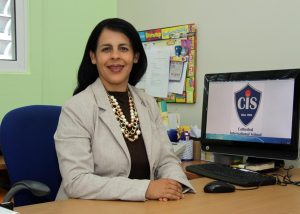 Welcome to Cathedral International School and its website, where we pride ourselves in offering a superior learning experience for our dear students, forming in values and excellence.
Experience has shown us that it takes a team to help all students reach their highest potential. Our caring and dedicated staff provide our students with real and inspirational learning experiences. We are convinced that with the appropriate support all students can become successful. The achievements of our school are due to the participation, capacity, and hard work of our students, staff, parents, and community. Our staff goals this year include developing higher levels of thinking and prepare our students with 21st- century skills, they need to compete in this globalized world.
We truly believe that communication is the key to a successful educational experience. Together, we will continue to improve the quality of our school community and provide the best for CIS students. All children or teenagers are more successful when we work as a team to achieve educational goals.
Through this website, we present to you as much information as possible about our dynamic school, programs, academic activities, faculty members, student body, as well as, our parents and alumni; important members of our great community.
If you are already part of CIS-SDE family, we hope to continue to provide updated information that will motivate you to return to our page. If you are coming to this page as a prospective family, we hope you can take look at our admission policies. We will strive to fulfill our mission on a daily basis of quality teaching and active learning; do not hesitate to reach out to us if you need additional information.
Yours sincerely,
Awilda López Fernández. M. Ed.
Academic Director